Honda Accord
Exterior Features
Safety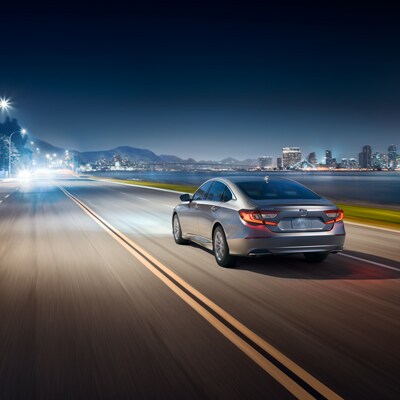 Sensible Safety
With the help of the Honda Sensing® system, you can enjoy a safe ride in the 2019 Honda Accord. This system is made up of a number of safety technologies that help you stay safe on the road, such as the Collision Mitigation Braking System™. This feature can sense a possible impending collision and automatically apply the brakes to help mitigate it and keep you safe.
Performance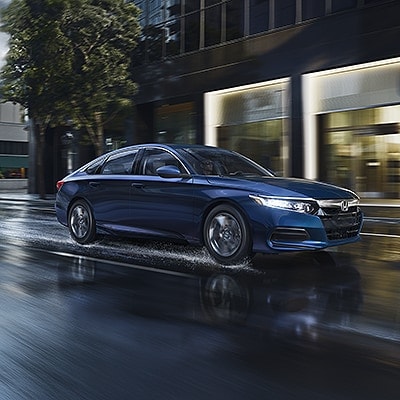 Sporty Handling
You can enjoy an exciting ride in the 2019 Honda Accord. This vehicle has energetic performance and sporty handling, thanks in part to the available paddle shifters. The steering wheel-mounted paddle shifters add an extra element of control that makes for sharp, sporty handling that we think you're going to love.
Style & Design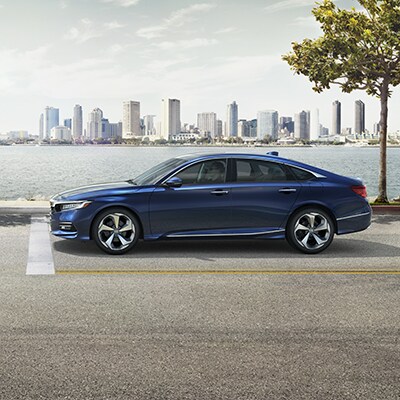 Sophisticated Style
If you're looking for a vehicle that has a mature and sophisticated look, the 2019 Honda Accord could be perfect for you. This vehicle has a bold front end, sculpted lines and a sleek design for an eye-catching look that you'll love to show off.

Honda Accord
Interior Features
Technology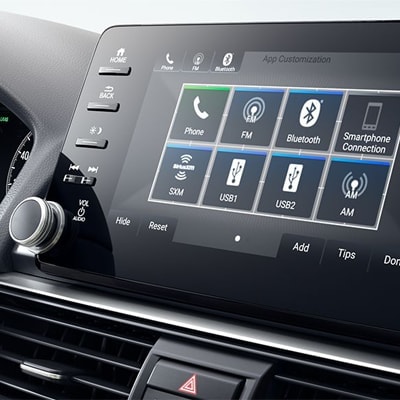 Stay Connected
The 2019 Honda Accord offers all kinds of smart features that make your ride more enjoyable. This includes the available Mobile Hotspot Capability, which turns your vehicle into a mobile hotspot, allowing you to connect to the internet on the go.
Comfort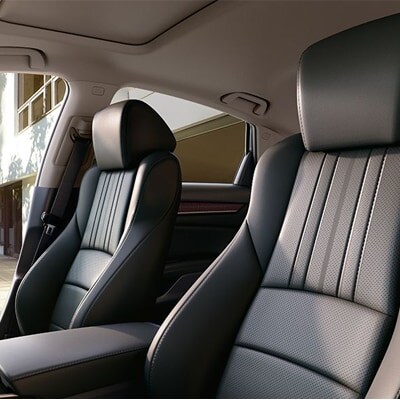 Relaxing Ride
You can enjoy a relaxing ride in the 2019 Honda Accord. This vehicle has a well-crafted cabin, offering available leather trim, along with features like an available 12-way power driver's seat and available heated/ventilated seats for a seriously comfortable ride that you can enjoy wherever you go.
Enjoy Your Honda Accord More with These Special Financing & Leasing Offers at LeadCar Honda Yorkville
If you haven't spent a little time with the Honda Accord, one thing is for sure: you're missing out. But don't miss out two-fold by skipping these Honda Accord financing and leasing special offers! There are very few things that could actually improve upon the Honda Accord, but finding a sweet leasing offer or financing incentive in Yorkville, NY is certainly one way to make a good thing better.
Stylish & Fun to Drive, the Honda Accord Only Looks Better When It's Next to One of These Specials
Hot off a recent redesign, the Honda Accord has been the envy of many drivers in the Utica, NY area, but here is your chance to get behind the wheel of a Honda Accord at a great price; regardless of whether you're looking to buy with a loan or you'd rather find a Honda Accord lease special, this is the place to check for our best financing and leasing incentives.
We do our best to keep the specials and incentives fresh around here, moving in new specials and lease offers when older ones expire-that way, we bring only the most relevant financing offers to Syracuse, Rome and Oneida, NY drivers. When you find one that you like, however, be sure to get in contact with our financing team to take advantage of it before it slips away!
Found the Perfect Honda Accord Financing Special? Here's What to Do Next:
If you've found the financing special to match that new Honda Accord you've been eyeing, you're almost to the finish line. First thing first, though, you're going to want to come in for a test drive, and after that, you'll meet with our financing team to bang out the specifics of your financing solution. Don't worry, our team is friendly and professional, and we want to work with you to get you out of your old car and into that new Honda Accord!